5 Family Friendly Activities at Voyageurs National Park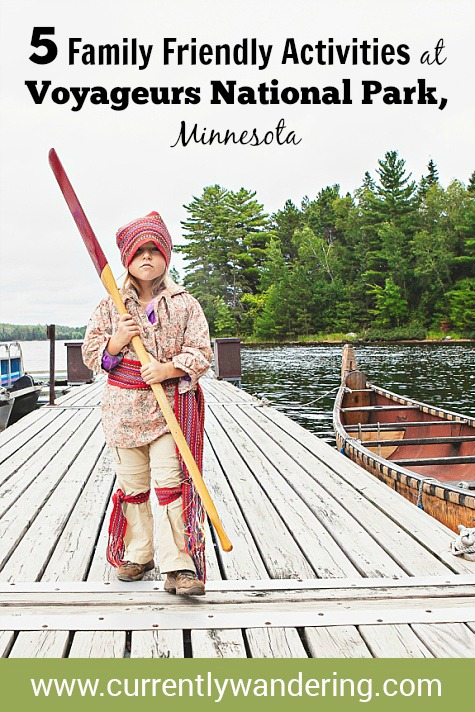 Voyageurs National Park, Minnesota isn't on the way to anywhere. You have to actually try to visit this northern Minnesota park and I had been looking forward to it for quite sometime. Our experience here was relaxing, fascinating from a U.S. History perspective and so much fun. I'm so happy we spent the time to drive up and stay a few days.
This park is named after the French trappers who roamed the backwater lakes and rivers in large canoes transporting goods for various trading companies in the late 17th and early 18th centuries. The international boundary between the U.S. and Canada closely follows the voyageurs classic route along the park's northern border. With plenty of paddling routes, islands, hikes, lakes, boat in campsites, and some of the most amazing park rangers I've ever met, this park has hit our list of favorites!
When We Visited: July 27-30, 2015

Ages of Kids: 9, 7, 5

Where We Stayed: There's not a campground IN the National Park but there are two options just outside the boundaries. We stayed at the Woodenfrog State Forest Campground (review on Campendium) but there's also the Ash River Campground at the other end of the park (Campendium link). The volunteer we talked to said that Ash River was more of an open field and hardly ever fills up.
We spent four days exploring this area of Minnesota and loved it. There are a few activities that take some advanced planning, but many you can do in a few hours. I'd recommend at least staying overnight (if not more) to get the most out of your time here. If we had been a bit more prepared with food and gear we would have been tempted to overnight out on the peninsula or on one of the islands!
Here are our top 5 suggestions of things to do in the park:
1. Participate in the North Canoe Program
We drove into the Kabetogama Visitor Center our first drizzly morning to get our Jr. Ranger Books and were a little surprised to see rangers dressed in odd clothing come out of the backroom and start talking in French accented English. I was fascinated and we hung around long enough to enjoy the ranger program and learn a few things about the park.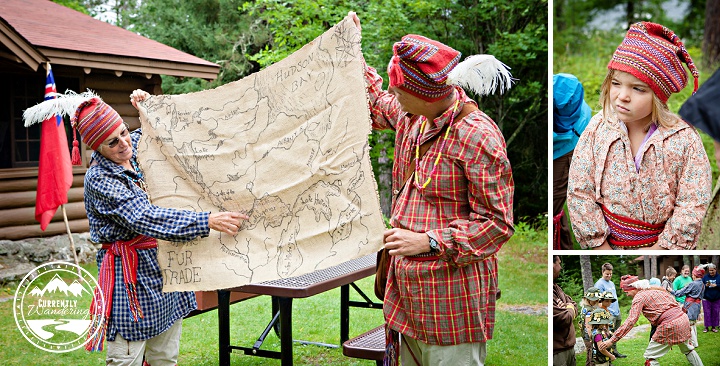 The kids and I loved it so much, we opted to drive (with Sam this time) 45 minutes down to the Ash River VC to try and participate there the following morning. As a participant in the North Canoe program, you are a prospective Voyageur and are given a rundown of your responsibilities, attire, and on a good weather day – you pile into the canoe with 10 other people and actually paddle. Unfortunately, it was still too stormy to paddle, but the programs were different enough that although we did it twice it was still a lot of fun.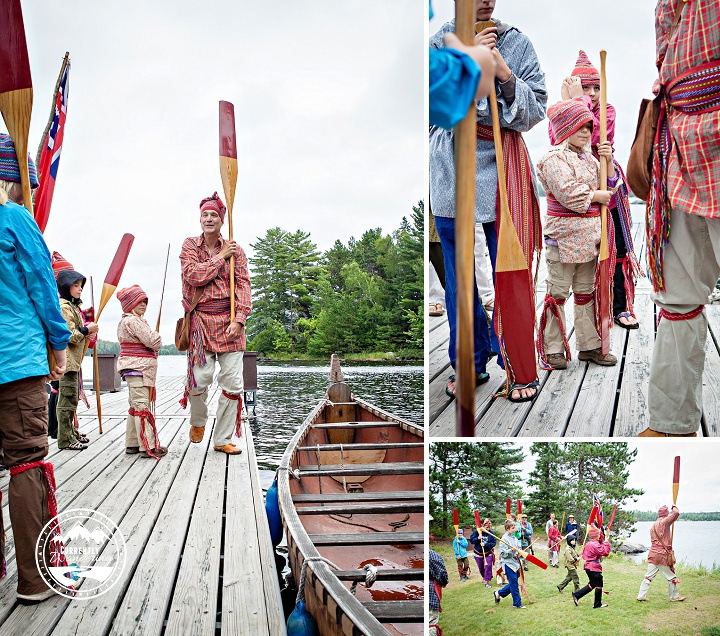 I would definitely call ahead and schedule this if you know the dates you will be there. The Visitor Centers do the program on different days of the week, so make sure to check their schedules. Kabetogama Schedule, Ash River, Schedule Rainy Lake Schedule
2. Go on a Hike
The best hikes on the mainland are down by the Ash River Visitor Center. The rangers told us both the Blind Ash Bay and Sullivan Bay Trails hike out to great overlooks. We opted for Blind Ash Bay as it was a little longer and the ranger said they had recently seen some wild blueberries and raspberries along the trail.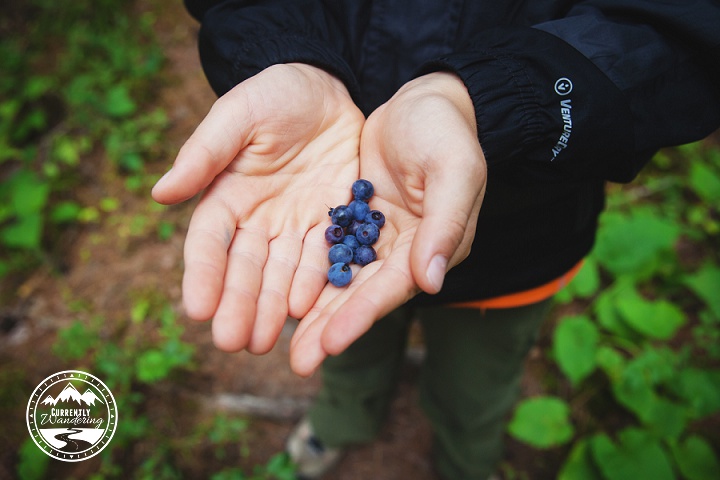 It was probably the slowest 4 miles we have ever hiked due to our frequent stopping to pick the delicious fruit. The scenery also reminded me a bit of the Pacific Northwest with a mix of birch and pine trees, plus some ferns and mushrooms growing in the shade. We loved it.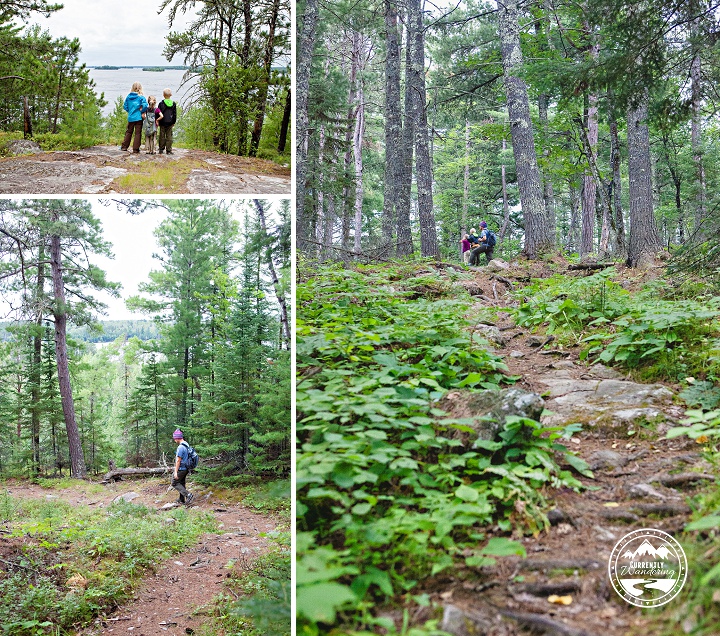 If you take a water taxi over to the peninsula (there's a list of commercial services in the Park Newspaper) Locater Lake sounded like a great option as a 4 mile out and back to the lake. If you are super adventures, reserve a canoe from the visitor center before you leave and paddle around Locator Lake once you've hiked out there.
3. Stay in a Campground
We stayed in the Woodenfrog State Forest Campground on the mainland, but there are also quite a few back country sites – both on the peninsula and on the islands in Lake Kabetogoma. You need a permit for any of them (and a water craft to get you there), and I imagine some are more hard to schedule than others. We did check out one of the canoe-in sites on an island and it was pretty awesome. My kids said they were ready to move in, but we
'll save that for the next trip!
4. Earn a Jr. Ranger Badge & Make a Necklace
The Voyageurs Junior Ranger badge was fairly easy and fun to do. Both my older kids were able to complete the book on their own, and Cara had an easier book that was perfect for her age level! As a bonus you can also earn the Night Explorer Patch – just ask at the visitor center for the separate book (we earned ours last year in Cedar Breaks National Monument in Utah).
Both visitor centers we visited had great kid's stations with coloring, bead necklace making and other activities. Our kids even made necklaces and gave them to the ranger & volunteers as a thank you for the awesome program!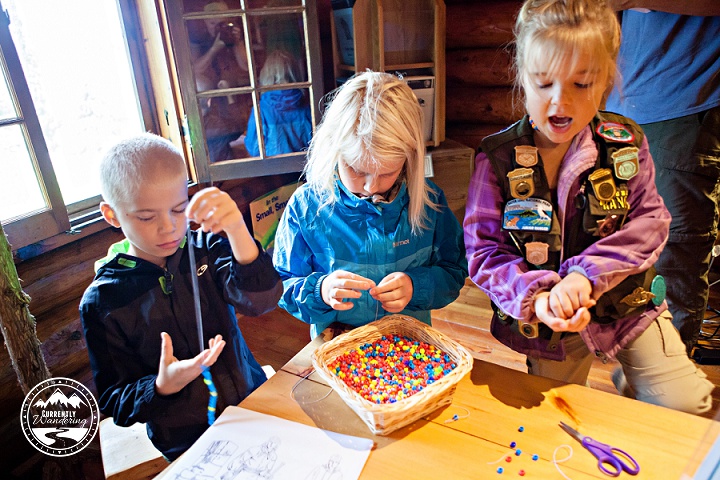 5. Get Out on the Water
Voyageurs National Park is mostly used by those in a boat. We saw SO many vehicles with boat trailers in every parking lot. There are houseboat campsites, lots of fishing, tour boats, rental canoes and kayaks – you name it! We rented canoes from Arrowhead Lodge & Resort which was just down the hill from our campground. We went early in the morning as the wind was going to pick up later – but it was still a bit of a difficult paddle. Despite the wind, we thoroughly enjoyed paddling out to the islands and exploring the campsites.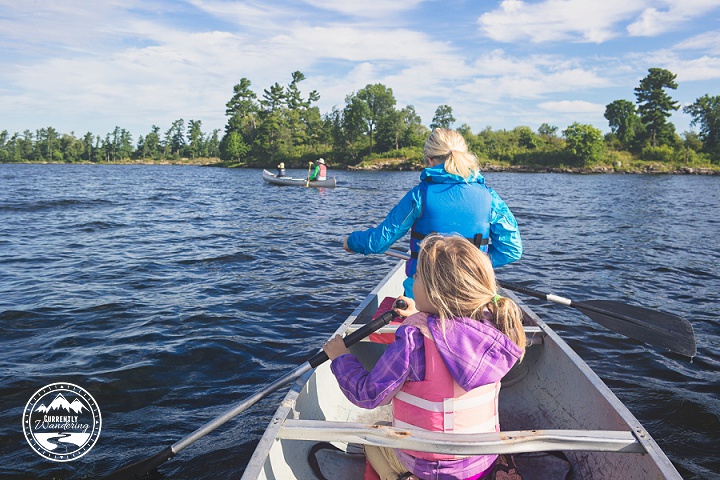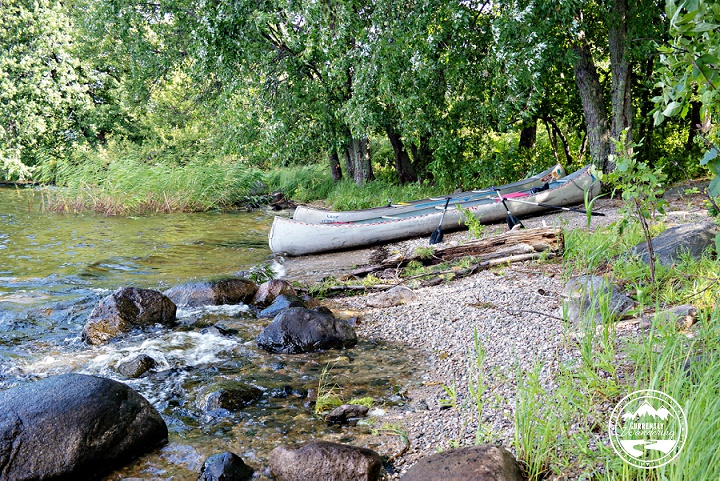 Also- we found out that the park service rents canoes on some of the inland lakes on the peninsula! We thought about taking a water taxi over to Locater Lake (about a 2 mile hike in) and renting a canoe there to paddle around, but opted for the closer paddle around the islands instead. You reserve the canoe at the visitor center and they give you a key. Once you get back, you just turn your key in! How cool would that be?
This park has so many amazing possibilities for exploration and learning about history. My absolute favorite part was the interactive North Canoe program – I feel like we learned SO much about the Voyageurs. These were truly amazing boys & men that worked long, hard days paddling and transporting goods up and down these northern rivers. Forever we will always remember that as Voyageurs "You must protect ze goods for ze compan-e!"
Road School Add On: I'll give a bonus #6 just because I'm that in love with this National Park. In the Visitor Center we were introduced to these two books: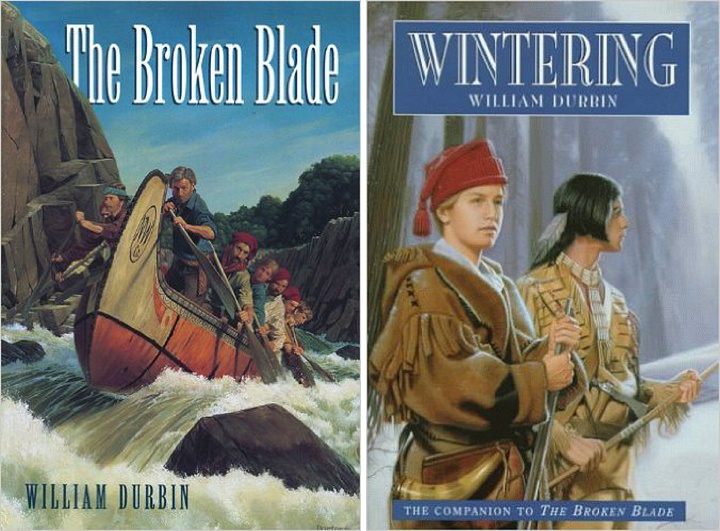 Broken Blade is a story about a boy who becomes a Voyageur after his father dies. As part of their road schooling I told my kids they had to read The Broken Blade and now they are begging to read Wintering as well. There's a Kindle Version of the first, but I think we are going to have to order a physical copy of book #2. (Amazon affiliate link)
We are also planning a trip up to Grand Portage National National Monument when we hit the North Shore of Lake Superior. Grand Portage was the meeting place for the Voyageurs to exchange goods from the east for furs from the west, and apparently they had quite the party. I can't wait to see more of the Ojibwa Native American side to this part of history once we get there!
The post 5 Family Friendly Activities at Voyageurs National Park appeared first on Currently Wandering.