The Currently Wandering Holiday Gift Guide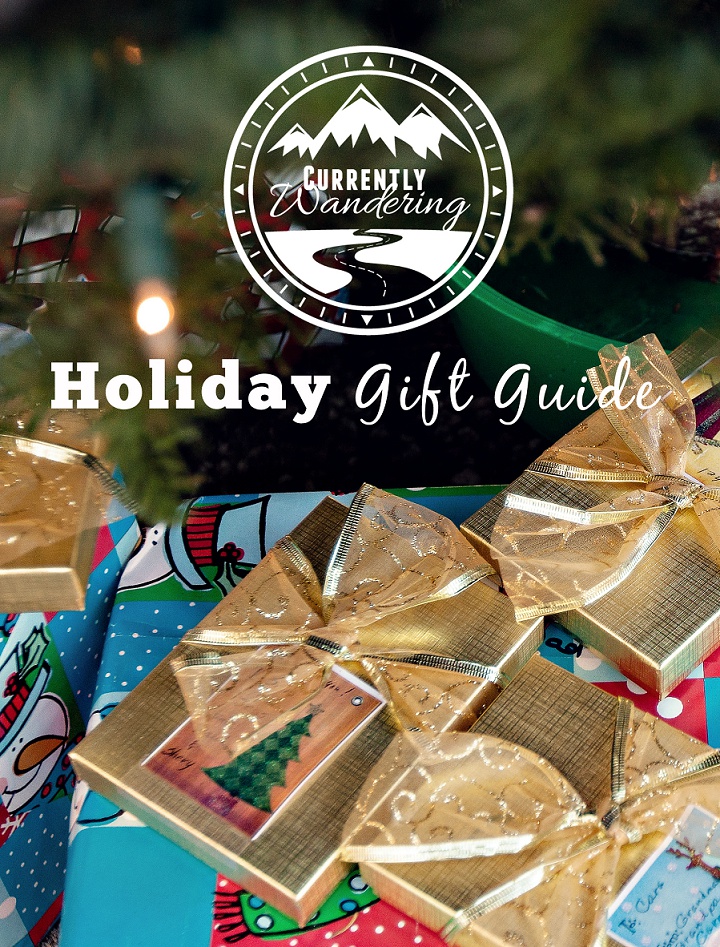 We seriously own 90% of this gear, and the other 10% we would own if we could fit it in our Airstream (ahem! Vacilando quilt!). This post contains Amazon & REI affiliate links which help to fund the blog in a small, small way. Thanks for helping us out by clicking through to shop!
Now that Thanksgiving is over we get to celebrate Christmas!! I love this time of year, and amid all the presents, the lights and everything else we try to concentrate on spending time together as a family. While we are big on experiences (not presents) for Christmas and birthdays we do have our favorite gear to help facilitate our adventures. We have very little space to store things, so we make sure they are our favorites. If you are looking for the perfect gift for a child, for family time, outdoor adventure, the adventure mom, or even a traveler, read on!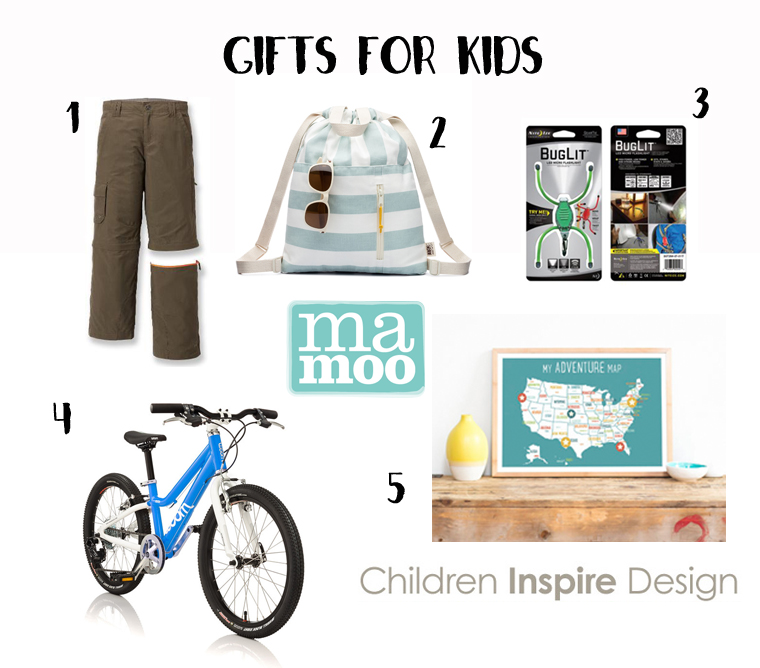 1. REI Sahara Convertible Pants – My kids wear these EVERYWHERE. Hiking, mountain biking, or just playing. Great because if they get too hot they can stash the legs in their pockets.
2. Drawstring Backpack from Mamoo Kids – Super comfortable, great adventure bag! Stash their nature journal, a pen, a water bottle, and some sunglasses and head out to explore.
3. Nite Ize Bug Lite – We have three of these (one for each!) and they make fantastic backcountry night lights. They also wrap around hiking poles or wrists for exploring in caves. Just sayin'….
4. Woom Bike – I'm not sure I can express how much we LOVE our Woom. So much that the older two kids are begging for one. Full review here.
5. My USA Adventures Map – I can't think of a more adorable way to keep track of your adventures. A 12×18 map of the USA comes with 16 stickers to highlight your trips. They also have a world map if you are a bit more adventurous.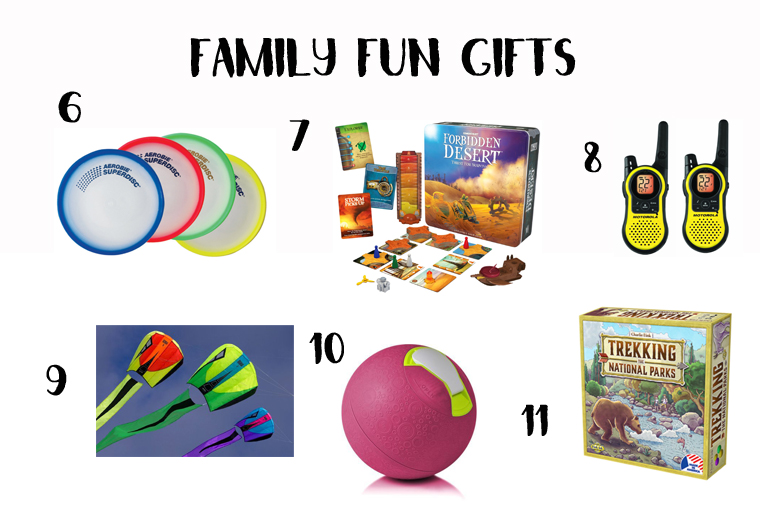 6. Aerobie SuperDisc – people are surprised with how well my kids can throw a frisbee. This thing is soft, flexible and flies well. Perfect for an afternoon out in the campground (or the lawn, or the park!).
7. Forbidden Desert – Everyone we've taught to play this game loves it. Its a cooperative game – so your family against piling sand, thirst, and a huge storm. Just be prepared to lose your first few times playing.
8. Talkabout Radios – These are great for hiking, for sending your kids off exploring (together) or just to general keep track of each other at Disneyland. Blog post here.
9. Bora Single Line Parafoil Kite – We have a stunt kite, but this one is MUCH easier for the kids to fly. Whether on the Oregon coast, or in the deserts surrounding Las Vegas we've loved pulling it out.
10. YayLabs! Soft Ice Cream Ball – We don't own one of these (yet) but friends have said they are a blast! Who doesn't love ice cream?
11. Trekking the Parks Board Game – Visit the National Parks, earn points, and enjoy the beautiful photos and artwork on this family game. Full review here.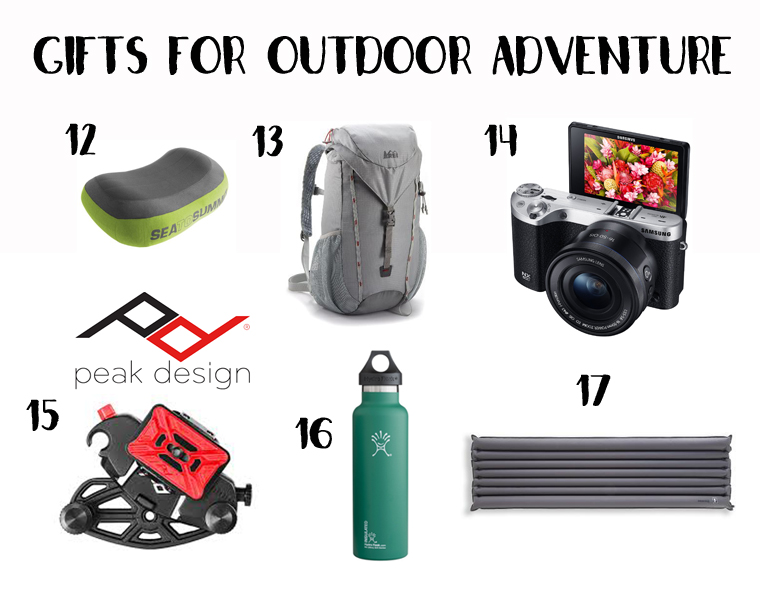 12. Sea to Summit Aeros Pillow Premium -We recently bought me one of these for backpacking as I was struggling to sleep, and then we ended up buying another one. Love that one side is soft so my face doesn't slip off while I'm sleeping.
13. REI Flash 22 Bag – We use this as a super light-weight everyday bag. It packs up small and doesn't weigh much so that the kids can carry it pretty easy as well. Great for short hikes or exploring a city.
14. Samsung NX500 – This is the big brother of the Samsung NX300 that we own (full review here). On this one the screen actually swings all the way around for video and selfies.
15. Capture Pro Camera Clip – I use this ALL the time. Its super easy to carry a camera around and have it easily accessible. I'll even strap it to our REI Flash Bag.
16. Hydro Flask – We bought this on a whim before our backpacking trip on the Apostle Islands and it was fabulous for keeping our hot chocolate warm in the morning. Actually, the Hydro Flask keeps things almost too warm!
17. REI Stratus Thermarest – We bought one for me awhile ago, and its so small and compact, we've now bought one for Rachel and Andrew. Its not self-inflatable so you have to blow a little, but its worth it for the weight savings.
18. REI Co-Op Down Vest – We dress is layers, and having a puffy vest has been absolutely spectacular. I looked at a bunch, and the REI Co-op vest has a great design and is reasonably priced.
19. Smart Wool Candy Cane Beanie – I am in LOVE with this beanie. Warm and stylish. And it goes with my vest.
20. Haiku Bag Bucket Bag – I heard about these bags from some outdoor friends and decided to give it a try. I needed something that could hold my wallet, my Kindle, and my Nexus 300 but not be overly large. Its perfect.
21. Broken Compass Trading Handmade Notebook– I ran into Sarah on Instagram as they live out of their Airstream and just bought some land in Colorado to call home. She makes beautiful, hand made notebooks and jewelry! I can think of a million ways to use these notebooks, but a nature journal would be epic.
22. Title Nine Dress – Can you tell I'm in the mood to recommend clothes? When a girl has a tiny closet, I have to love everything in it, right? I just bought this dress from their store in Utah, and dressed up with leggings and a scarf its trendy, warm, and super-duper comfortable!
23. REI Venturi Hoodie – My favorite shirt. Its functional, cute and works great for hanging around or going on a short hike.
24. Tarma Designs Charms – I've had the Cairn & bicycle charms for years and wear them religiously on a chain around my neck. I love that they represent activities in my life that I love and are a huge part of my identity!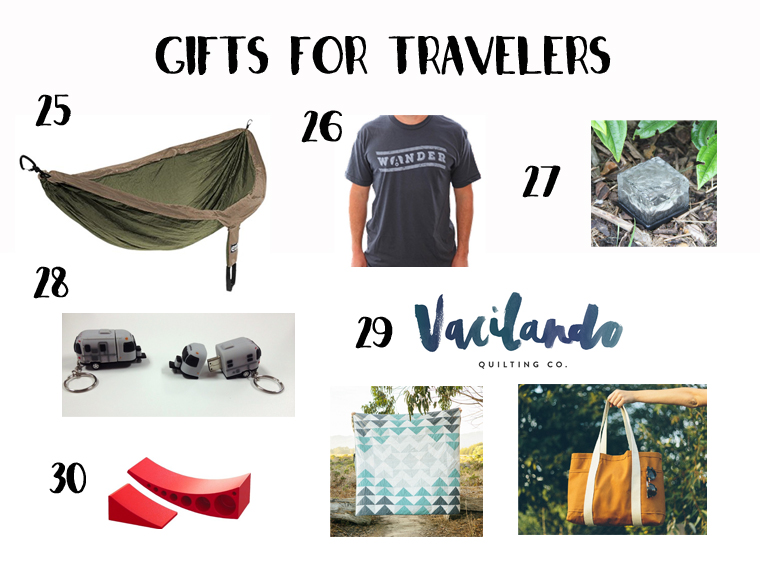 25. Eno Double Nest Hammock & Atlas Straps: I think everyone needs a hammock, and this is the best. Super comfy and Sam and I can both fit in it. The Atlas straps are great for wrapping around trees, rocks, or whatever else is handy.
26. Wander T-Shirt: We picked this up at the Airstream factory, but you can always buy it online. Subtle and simple, its one of Sam's favorites.
27. Frostfire Solar Ice Rocks: We use these outside our trailer for a little more light at night. They charge via sunlight, so as long as you leave them out during the day you'll be good to go!
28. Airstream USB Keychain: GREAT for the Airstream lover. How awesome is this?
29. Quilt or Subway Tote from Vacilando Quilting: Laura & her boyfriend traveled in an Airstream for awhile under the Democratic Travelers. They've since "settled" in the Bay area and Laura is using her seamstress talents to make amazingly beautiful quilts & tote bags!
30. Camper Leveler Blocks: These are on our wishlist. Lego blocks are great until they aren't. These allow to precisely level at any increment between 1/2 inch and 4 inches.
If this isn't quite what you are looking for, check out this other amazing Gift Guides from some of the best adventuring family experts I know!
The post The Currently Wandering Holiday Gift Guide appeared first on Currently Wandering.